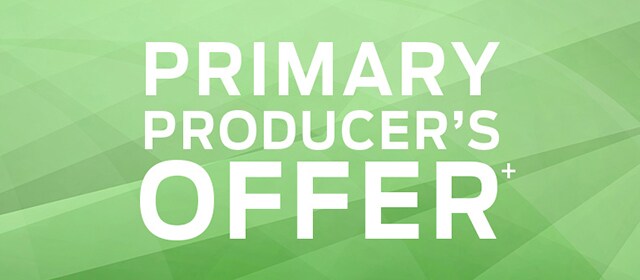 3.2L TDCi Diesel Manual
Drive Away Price* $38,490
4×4 XL Double Cab Pick-up 3.2L Manual
$P.O.A

Condition: New

Make: FORD

Manufacture Year: 2019

Body Type: UTILITY

Seating Capacity:

Exterior Color:

No. of Gears:

Transmission:

Engine: L

Fuel type:

Kilometres: 0

Unregistered

Stock No:
3.2L TDCi Diesel
6 speed manual
Towing Capacity of 3,500kg**
800mm Water Wading##
Locking Rear Differential
4.2″ Colour screen
Bluetooth® with Voice Control#
16″ Steel Wheels
Cruise control with speed limiter
Dynamic Stability Control with ABS
Driver and Front Passenger Airbags
Front seat side and front side curtain airbags
Auto headlamps
230V Inverter

* Recommended driveaway price on 2018 Plate, MY2019 models purchased from 18/6/19 at participating Dealers while stocks last. This Offer is only available to customers that can present proof establishing them as a Primary Producer at participating Ford Dealers at the time of ordering an eligible new Ford vehicle. This offer is only available when a customer purchases an eligible new Ford vehicle. The new Ford vehicle(s) purchased under the Ranger Primary Producers Pricing must be registered to the Primary Producer's individual name or business entity to whom the vehicle is registered. The Offer may be combined with any other offer or promotion in the market run by Ford. However the offer cannot be used in conjunction with Privilege Club Pricing (Privilege Club Pricing is a vehicle discount program available only to Ford Employees and Retirees and their eligible relatives through authorised Ford Dealerships). This offer is not transferrable. This is a recommended offer only.

** Maximum braked towing capacity when Genuine Tow pack fitted

## Achieved when maintaining a steady speed of 7km/h

# Bluetooth® is a registered trademark of Bluetooth SIG Inc., and is used under license. Some phones not compatible.
---
Specifications
Audio And Communication

6 Speakers (2 Tweeters, 4 Woofers)
8″ Colour Touch Screen
AM/FM Stereo Radio
Apple CarPlay & Android Auto
Bluetooth® with Phone/Audio Streaming
CD Player (MP3 compatible)
DAB+ Digital Radio
Satellite Navigation with Traffic Message Channel
SYNC®3 with Voice-Activated Controls
USB Ports x 2

Comfort and Convenience

230V Inverter – Rear of Centre Console
Ambient Lighting – Multi-Colour
Auxillary 12V Power Outlet – Lower Dashboard
Auxillary 12V Power Outlet – Rear of Centre Console
Centre Console – Cooled
Centre Console – Single Lid with 2 Cup Holders & Coin Storage
Child Seat ISOFIX Anchorage Points (x 2)
Child Seat Upper Anchorage Points (x 2)
Climate Control – Dual Zone Automatic
Dual colour 4.2″ instrumentation screens
Floor Coverings – Carpet
Floor Mats (Wildtrak) – All Positions
Headlamps – Auto On/Off Function
Leather Wrapped Steering Wheel & Gear Knob
Power Front Windows (Auto Driver)
Power Rear Windows
Rain Sensing Windscreen Wipers
Rear View Mirror – Electrochromatic
Rear Window Defrost

Engine

Bore x Stroke (mm) : 84 x 90
Compression Ratio : 16:1
Engine Size (cm3) : 1996
Engine Type : Inline 4 Cylinder
Fuel Management System : Turbocharged direct common rail injection
Maximum Power : 157kW @ 3750rpm
Maximum Torque : 500Nm @ 1750-2000rpm
No. of Valves : 16

Exterior

Centre High Mounted Stop Light
Exterior Door / Tailgate Handles – Bolder Grey
Exterior Lighting – Front Fog Lamps (LED)
Exterior Lighting – High Intensity Discharge (HID) headlamps
Exterior Lighting – LED Daytime Running Lamps
Exterior Mirrors – Bolder Grey
Exterior Mirrors – Power Adjustable
Exterior Mirrors – Power Folding & Heated with Turn Indicator
Exterior Mirrors – Puddle Lamps
Front Bumper – Body Colour
Front Bumper Insert – Accent Bolder Grey
Grille – Bolder Grey
Mud Flaps – Front and Rear
Privacy Glass
Rear Bumper – Bolder Grey
Rear Sports Bar – Sailplane
Side Steps – Black with Silver Inserts
Tow Bar
Wheels – 18″ Alloy

Exterior Dimensions (mm)

Approach Angle (unladen, degrees) : 29
Departure Angle (unladen, degrees) : 21
Ground Clearance (unladen, mm) : 237
Height (mm) : 1848
Length – with rear bumper (where fitted) : 5426
Overhang – Front : 908
Overhang – Rear : 1226
Ramp Breakover Angle (degrees) : 25
Track – Front and Rear : 1560
Turning Circle – Kerb to kerb (m) : 12.7
Wading Depth (mm) : 800
Wheelbase : 3220
Width – excluding mirrors : 1860
Width – exterior mirors extended : 2163
Width – exterior mirrors folded : 1977

Fuel

CO2 Emissions (g/km)(Auto) : 195
Combined Fuel Economy (L/100km)(Auto) : 7.4
Fuel tank capacity (L) : 80
Fuel type : Diesel

Interior Dimensions (mm)

2nd Row Headroom : 986
2nd Row Legroom : 902
2nd Row Shoulder Room : 1430
Front Headroom : 1022
Front Legroom : 1058
Front Shoulder Room : 1440

Load Box Elements

Bedliner with 12V Socket
Inner Tie Downs
Load Box Illumination
Roller Shutter
Tailgate Lock – Power (activated with Central Locking)
Tailgate with Lift Assistance

Pick-up Box Dimensions (mm)

Height – at centreline of axle : 511
Height – floor height to ground : 840
Length – at floor : 1549
Length – top of box : 1485
Width – between wheelhouses : 1139
Width – pick-up box : 1560
Width – rear opening : 1330

Regular Production Options

Automatic Transmission
Black 18″ Alloy Wheels : Optional
Prestige Paint : Optional

Safety, Security and Driver Assistance

3 Point Lap Sash Seat Belt – All Positions
Adaptive Cruise Control with Forward Collision Alert
Adjustable Speed Limiter
Airbags – Driver and front passenger
Airbags – Front seat side
Airbags – Side Curtain (Full Length)
Alarm with perimeter, interior motion and vehicle inclination sensors
Anti-Lock Braking System (ABS)
Auto High Beam
Beltminder™ – All Positions
Cruise Control
Driver Impairment Monitor
Dynamic Stability Control (DSC)
Emergency Assistance
Emergency Brake Assist
Emergency Brake Light
Hill Descent Control
Hill Launch Assist
Lane Keeping Aid
Load Adaptive Control
MyKey®
Parking Sensors – Front
Parking Sensors – Rear
Pre-Collision Assist – AEB with Pedestrian Detection
Rear Differential – eLocking
Rear View Camera
Roll Over Mitigation
Semi-Auto Active Park Assist
Smart Keyless Entry with Push Button Start – 2 Fobs Provided
Traction Control System
Traffic Sign Recognition
Trailer Sway Control
Tyre Pressure Monitoring System

Seating

8-way Power Driver Seat Adjustment (plus Lumbar Support)
Heated Front Seats
Wildtrak Leather Accented Seats (Black with orange stitching)

Transmissions/Ratios

10-speed automatic transmission
10th (10-Speed automatic) : 0.64
1st (10-Speed automatic) : 4.70
2nd (10-Speed automatic) : 2.99
3rd (10-Speed automatic) : 2.15
4th (10-Speed automatic) : 1.77
5th (10-Speed automatic) : 1.52
6th (10-Speed automatic) : 1.28
7th (10-Speed automatic) : 1.00
8th (10-Speed automatic) : 0.85
9th (10-Speed automatic) : 0.69
Final Drive Ratio (10-Speed automatic) : 3.73
Reverse (10-Speed automatic) : 4.87

Vehicle masses (kg)

Gross Combined Mass : 6000
Gross Vehicle Mass (kg) : 3200
Kerb Weight – Front Axle : 1226
Kerb Weight – Rear Axle : 1020
Kerb Weight – Total : 2246
Maximum Axle Load – Front : 1480
Maximum Axle Load – Rear : 1850
Maximum Braked Towing Capacity : 3500
Payload : 954
Audio And Communication

6 Speakers (2 Tweeters, 4 Woofers)
8″ Colour Touch Screen
AM/FM Stereo Radio
Apple CarPlay & Android Auto
Bluetooth® with Phone/Audio Streaming
CD Player (MP3 compatible)
DAB+ Digital Radio
Satellite Navigation with Traffic Message Channel
SYNC®3 with Voice-Activated Controls
USB Ports x 2

Comfort and Convenience

230V Inverter – Rear of Centre Console
Ambient Lighting – Multi-Colour
Auxillary 12V Power Outlet – Lower Dashboard
Auxillary 12V Power Outlet – Rear of Centre Console
Centre Console – Cooled
Centre Console – Single Lid with 2 Cup Holders & Coin Storage
Child Seat ISOFIX Anchorage Points (x 2)
Child Seat Upper Anchorage Points (x 2)
Climate Control – Dual Zone Automatic
Dual colour 4.2″ instrumentation screens
Floor Coverings – Carpet
Floor Mats (Wildtrak) – All Positions
Headlamps – Auto On/Off Function
Leather Wrapped Steering Wheel & Gear Knob
Power Front Windows (Auto Driver)
Power Rear Windows
Rain Sensing Windscreen Wipers
Rear View Mirror – Electrochromatic
Rear Window Defrost

Engine

Bore x Stroke (mm) : 89.9 x 100.76
Compression Ratio : 15.7:1
Engine Size (cm3) : 3198
Engine Type : Inline 5 Cylinder
Fuel Management System : Turbocharged direct common rail injection
Maximum Power : 147kW @ 3000rpm
Maximum Torque : 470Nm @ 1750-2500rpm
No. of Valves : 20

Exterior

Centre High Mounted Stop Light
Exterior Door / Tailgate Handles – Bolder Grey
Exterior Lighting – Front Fog Lamps (LED)
Exterior Lighting – High Intensity Discharge (HID) headlamps
Exterior Lighting – LED Daytime Running Lamps
Exterior Mirrors – Bolder Grey
Exterior Mirrors – Power Adjustable
Exterior Mirrors – Power Folding & Heated with Turn Indicator
Exterior Mirrors – Puddle Lamps
Front Bumper – Body Colour
Front Bumper Insert – Accent Bolder Grey
Grille – Bolder Grey
Mud Flaps – Front and Rear
Privacy Glass
Rear Bumper – Bolder Grey
Rear Sports Bar – Sailplane
Side Steps – Black with Silver Inserts
Tow Bar
Wheels – 18″ Alloy

Exterior Dimensions (mm)

Approach Angle (unladen, degrees) : 29
Departure Angle (unladen, degrees) : 21
Ground Clearance (unladen, mm) : 237
Height (mm) : 1848
Length – with rear bumper (where fitted) : 5426
Overhang – Front : 908
Overhang – Rear : 1226
Ramp Breakover Angle (degrees) : 25
Track – Front and Rear : 1560
Turning Circle – Kerb to kerb (m) : 12.7
Wading Depth (mm) : 800
Wheelbase : 3220
Width – excluding mirrors : 1860
Width – exterior mirors extended : 2163
Width – exterior mirrors folded : 1977

Fuel

CO2 Emissions (g/km)(Auto) : 234
CO2 Emissions (g/km)(Manual) : 221
Combined Fuel Economy (L/100km)(Auto) : 8.9
Combined Fuel Economy (L/100km)(Manual) : 8.4
Fuel tank capacity (L) : 80
Fuel type : Diesel

Interior Dimensions (mm)

2nd Row Headroom : 986
2nd Row Legroom : 902
2nd Row Shoulder Room : 1430
Front Headroom : 1022
Front Legroom : 1058
Front Shoulder Room : 1440

Load Box Elements

Bedliner with 12V Socket
Inner Tie Downs
Load Box Illumination
Roller Shutter
Tailgate Lock – Power (activated with Central Locking)
Tailgate with Lift Assistance

Pick-up Box Dimensions (mm)

Height – at centreline of axle : 511
Height – floor height to ground : 840
Length – at floor : 1549
Length – top of box : 1485
Width – between wheelhouses : 1139
Width – pick-up box : 1560
Width – rear opening : 1330

Regular Production Options

Automatic Transmission : Optional
Black 18″ Alloy Wheels : Optional
Prestige Paint : Optional

Safety, Security and Driver Assistance

3 Point Lap Sash Seat Belt – All Positions
Adaptive Cruise Control with Forward Collision Alert
Adjustable Speed Limiter
Airbags – Driver and front passenger
Airbags – Front seat side
Airbags – Side Curtain (Full Length)
Alarm with perimeter, interior motion and vehicle inclination sensors
Anti-Lock Braking System (ABS)
Auto High Beam
Beltminder™ – All Positions
Cruise Control
Driver Impairment Monitor
Dynamic Stability Control (DSC)
Emergency Assistance
Emergency Brake Assist
Emergency Brake Light
Hill Descent Control
Hill Launch Assist
Lane Keeping Aid
Load Adaptive Control
MyKey®
Parking Sensors – Front
Parking Sensors – Rear
Pre-Collision Assist – AEB with Pedestrian Detection
Rear Differential – eLocking
Rear View Camera
Roll Over Mitigation
Semi-Auto Active Park Assist
Smart Keyless Entry with Push Button Start – 2 Fobs Provided
Traction Control System
Traffic Sign Recognition
Trailer Sway Control
Tyre Pressure Monitoring System

Seating

8-way Power Driver Seat Adjustment (plus Lumbar Support)
Heated Front Seats
Wildtrak Leather Accented Seats (Black with orange stitching)

Transmissions/Ratios

1st (6-Speed automatic) : 4.17
1st (6-Speed manual) : 5.44
2nd (6-Speed automatic) : 2.34
2nd (6-Speed manual) : 2.84
3rd (6-Speed automatic) : 1.52
3rd (6-Speed manual) : 1.72
4th (6-Speed automatic) : 1.14
4th (6-Speed manual) : 1.22
5th (6-Speed automatic) : 0.87
5th (6-Speed manual) : 1.00
6-speed automatic transmission : Optional
6-speed manual transmission
6th (6-Speed automatic) : 0.69
6th (6-Speed manual) : 0.79
Final drive ratio (6-Speed automatic) : 3.73
Final drive ratio (6-Speed manual) : 3.55
Reverse (6-Speed automatic) : 3.40
Reverse (6-Speed manual) : 4.94

Vehicle masses (kg)

Gross Combined Mass : 6000
Gross Vehicle Mass (kg) : 3200
Kerb Weight – Front Axle : 1241(M) / 1259(A)
Kerb Weight – Rear Axle : 1019
Kerb Weight – Total : 2260(M) / 2278(A)
Maximum Axle Load – Front : 1480
Maximum Axle Load – Rear : 1850
Maximum Braked Towing Capacity : 3500
Payload : 940(M) / 922(A)
Audio And Communication

4.2″ Colour Multi-Function Display
6 Speakers (2 Tweeters, 4 Woofers)
AM/FM Stereo Radio
Bluetooth® with Phone/Audio Streaming
CD Player (MP3 compatible)
SYNC® with Voice-Activated Controls
USB Ports x 2

Comfort and Convenience

230V Inverter – Rear of Centre Console
Auxillary 12V Power Outlet – Lower Dashboard
Centre Console – Single Lid with 2 Cup Holders & Coin Storage
Child Seat ISOFIX Anchorage Points (x 2)
Child Seat Upper Anchorage Points (x 2)
Climate Control – Single Zone Manual
Floor Coverings – Vinyl
Headlamps – Auto On/Off Function
Power Front Windows (Auto Driver)
Power Rear Windows
Rear View Mirror – Manual Day/Night Inside
Rear Window Defrost

Engine

Bore x Stroke (mm) : 89.9 x 100.76
Compression Ratio : 15.7:1
Engine Size (cm3) : 3198
Engine Type : Inline 5 Cylinder
Fuel Management System : Turbocharged direct common rail injection
Maximum Power : 147kW @ 3000rpm
Maximum Torque : 470Nm @ 1750-2500rpm
No. of Valves : 20

Exterior

Exterior Door / Tailgate Handles – Black
Exterior Mirrors – Black
Exterior Mirrors – Power Adjustable
Front Bumper – Body Colour
Grille – Black
Mud Flaps – Front and Rear
Wheels – 16″ Steel

Exterior Dimensions (mm)

Approach Angle (unladen, degrees) : 28
Departure Angle (unladen, degrees) : 28
Ground Clearance (unladen, mm) : 232
Height (mm) : 1815
Length – with rear bumper (where fitted) : 5113
Overhang – Front : 908
Overhang – Rear : 985
Ramp Breakover Angle (degrees) : 24
Track – Front and Rear : 1560
Turning Circle – Kerb to kerb (m) : 12.7
Wading Depth (mm) : 800
Wheelbase : 3220
Width – excluding mirrors : 1860
Width – exterior mirors extended : 2163
Width – exterior mirrors folded : 1977

Fuel

CO2 Emissions (g/km)(Auto) : 229
CO2 Emissions (g/km)(Manual) : 218
Combined Fuel Economy (L/100km)(Auto) : 8.7
Combined Fuel Economy (L/100km)(Manual) : 8.3
Fuel tank capacity (L) : 80
Fuel type : Diesel

Interior Dimensions (mm)

2nd Row Headroom : 986
2nd Row Legroom : 902
2nd Row Shoulder Room : 1430
Front Headroom : 1022
Front Legroom : 1058
Front Shoulder Room : 1440

Load Box Elements

Tailgate with Lift Assistance

Regular Production Options

Automatic Transmission : Optional
Prestige Paint : Optional

Safety, Security and Driver Assistance

3 Point Lap Sash Seat Belt – All Positions
Adjustable Speed Limiter
Airbags – Driver and front passenger
Airbags – Front seat side
Airbags – Side Curtain (Full Length)
Anti-Lock Braking System (ABS)
Beltminder™ – All Positions
Cruise Control
Dynamic Stability Control (DSC)
Emergency Assistance
Emergency Brake Assist
Emergency Brake Light
Hill Descent Control
Hill Launch Assist
Load Adaptive Control
Rear Differential – eLocking
Remote Keyless Entry – 1 Fob provided
Roll Over Mitigation
Traction Control System
Trailer Sway Control

Seating

6-way Manual Driver Seat Adjustment (plus Lumbar Support)

Transmissions/Ratios

1st (6-Speed automatic) : 4.17
1st (6-Speed manual) : 5.44
2nd (6-Speed automatic) : 2.34
2nd (6-Speed manual) : 2.84
3rd (6-Speed automatic) : 1.52
3rd (6-Speed manual) : 1.72
4th (6-Speed automatic) : 1.14
4th (6-Speed manual) : 1.22
5th (6-Speed automatic) : 0.87
5th (6-Speed manual) : 1.00
6-speed automatic transmission : Optional
6-speed manual transmission
6th (6-Speed automatic) : 0.69
6th (6-Speed manual) : 0.79
Final drive ratio (6-Speed automatic) : 3.73
Final drive ratio (6-Speed manual) : 3.55
Reverse (6-Speed automatic) : 3.40
Reverse (6-Speed manual) : 4.94

Vehicle masses (kg)

Gross Combined Mass : 6000
Gross Vehicle Mass (kg) : 3200
Kerb Weight – Front Axle : 1235(M) / 1253(A)
Kerb Weight – Rear Axle : 760
Kerb Weight – Total : 1995(M) / 2012(A)
Maximum Axle Load – Front : 1480
Maximum Axle Load – Rear : 1850
Maximum Braked Towing Capacity : 3500
Payload : 1205(M) / 1188(A)
Trading hours:

Trading

| Day | From | To |
| --- | --- | --- |
| Monday | 08:30 AM | 06:00 PM |
| Tuesday | 08:30 AM | 06:00 PM |
| Wednesday | 08:30 AM | 06:00 PM |
| Thursday | 08:30 AM | 06:00 PM |
| Friday | 08:30 AM | 06:00 PM |
| Saturday | 08:30 AM | 04:00 PM |
| Sunday | Closed | Closed |
Saved Vehicles
Recently Viewed Vehicles